Lighthouse Kids SIGNATURE™️ AIO Cloth Diaper
SIGNATURE™️ Cloth Diapers are perfect for parents who are starting to cloth.  If your baby is skinny, if you are starting from birth, we recommend our SIGNATURE™️ Cloth Diapers.  
This All-In-One diaper is easy to use-no stuffing, no two pieces to worry about.  Fits babies 6-32 lbs. best.  Made with 100% Bamboo Knit, with a fleece topper.  No stuffing or snapping.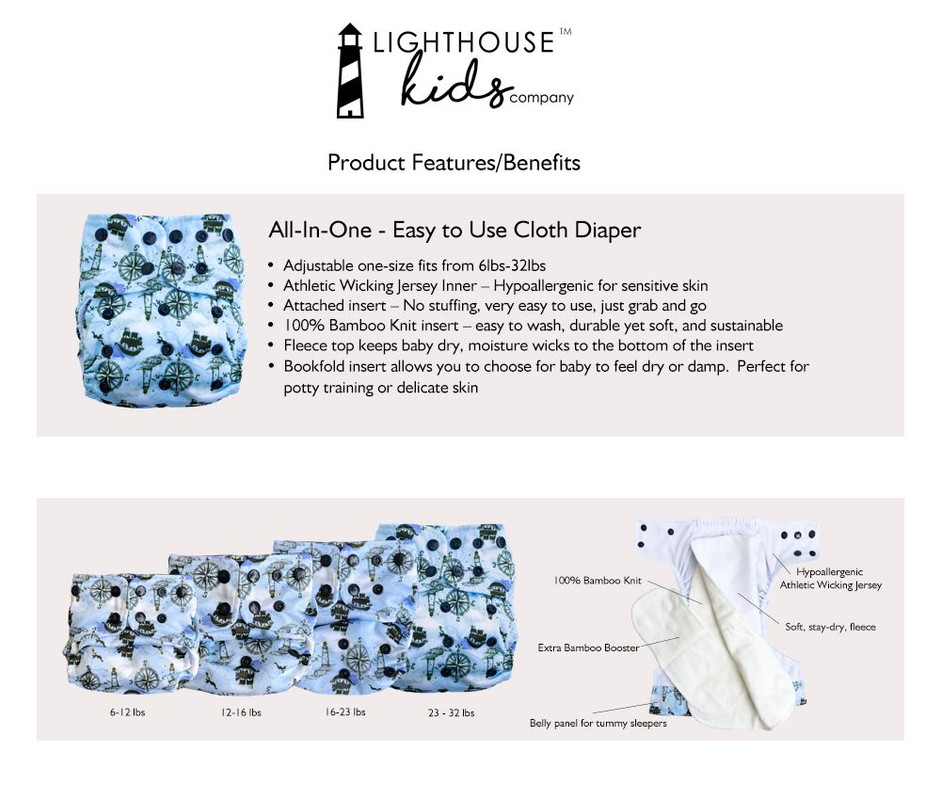 All-in-One Diaper:
Lighthouse Kids Company AIO diapers are an innovative brand of re-usable diapers designed by a mom who LOVES babies! This lightweight, super trim diaper will become your favorite. Choose from stay- dry fabric or wet bamboo for potty training - it's your choice, simply flip your insert to the desired side. No more snapping or stuffing diapers.
Moves with baby, lightweight TPU feels softer than other cloth diapers and allow for more movement.
Wash once, no prepping required.
All-In-One diaper is easy to use - no stuffing!
One-Size diaper fits babies 6-32 lbs.
Great diapers!
They fit my daughter really well and are super easy to launder. We haven't had a leak yet! We do use the booster pad as she's a pretty heavy wetter but everything stays in the diaper. We love that the soakers are sewn in so my husband can just put the booster in the diaper and snap it shut to put away. I wish I had found these two kids ago!!
Lighthouse Kids SIGNATURE™️ AIO Cloth Diaper
Love this brand
Best quality cloth diapers!
Great natural option
I have a heavy wetter. This is surprisingly good diaper. Petite cr0wn is still my bullet proof daytime option. I love the trim fit of Lighthouse on my skinny guy. I don't knew where I ordered buttercup from, but it has got to be the ugliest, mustardy color I've ever seen. It's in the back of my cabinet. :( But I love the blue.
My current favorite
I have a short chubby baby with skinny legs. ( I know right🤔). So you can imagine that it's a little tricky to find a good fit but Lighthouse Kids diapers fit like they were tailor made for her. Plus she's on the heavier wetter side and these are a good absorbency for her. To top it all off the stay dry fleece is ideal for us and I find washing and drying this diaper is easy enough. All in all this is hit and I'm very glad I tried it out, I've already ordered 4 more.😊