Sweet Pea Bamboo & Cotton Fitted Diaper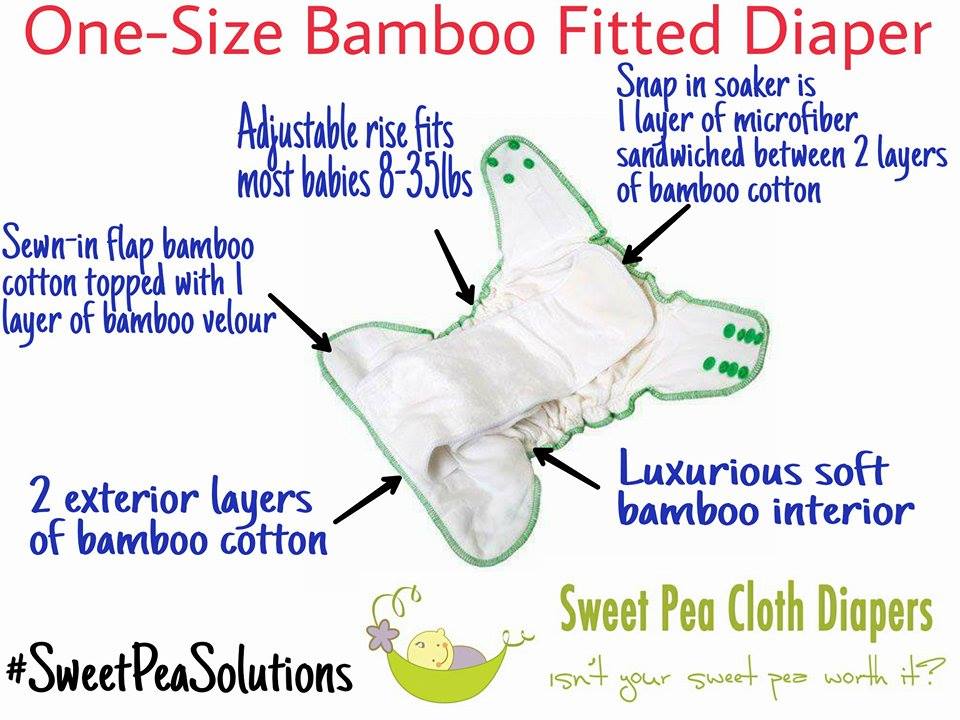 One size fits 8lbs to 35lbs ( fit varies ) (Cover needed)
Ultra absorbent and soft bamboo makes this one size fitted the go-to-diaper for nights or anytime! Quick dry design allows for ease of use. 
Luxurious Bamboo Velour insert flips out for quick dry time. 
Removable snap in insert is a layer of microfleece in between soft layers of bamboo/cotton knit. Use for nighttime or heavy wetting, remove for smaller fit.
Made of: Inner 70% rayon from Bamboo 30% Cotton. Bamboo Velour 56% rayon from bamboo 24% cotton and 20% polyester. 1 layer of microfleece 80% polyester 20% polyamide 
To Prep – Natural fibers should be washed once prior to first use. For maximum absorbency wash and dry 4-6. 
Washing Instructions: 
Cold/warm prewash. Machine wash in hot (120F/50C) with minimal amount of residue free detergent followed by a cold rinse. Tumble dry low, hang to dry or lay flat to dry. Do not iron. Do not use the sanitize cycle.
Recommended Detergents: Allen's Naturally, Country Save, Rockin Green, Crunchy Clean, Tide, Tide Free, Nellie's All Natural Laundry Soda, EcoSprout, Lulu's Glamour Wash 
DO NOT USE: Free and Clear Detergents, Ivory Snow, 7th Generation, Dreft, Dr. Bonner's Soap, Bio-Kleen, Bac-Out, dryer sheets, fabric softeners, bleach, vinegar, optical brighteners, and pure soap detergents 
Warranty: 
Snaps 2 year warranty 
Elastics, sewing, and any manufacturer dysfunction: 1 year warranty
Wear and tear is not covered under warranty 
Ethically Made in China